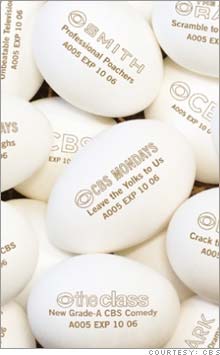 OK. This one hurts.

Remember a few years ago when advertisers were convincing poor (silly) college students to walk around with logos and branding materials on their heads? Well, this goes quite a bit further down the road.

CBS is tattoing eggs with logo information...on eggs.

Really.

Here's a potent ad message, critical to the progress of civilization: "CBS Mondays - Leave the Yolks to Us."

Business innovation is being driven by design and creativity. However, we need to consider not just what we can do, but what's worthwhile. This falls into the "just because you can do it, doesn't mean that you should" category.

I fear for us all.

Read the Money.cnn.com article.